Welcome to the Fennville Rod and Gun Club!

The Fennville Rod and Gun Club is a non-profit, all volunteer operated organization dedicated to the preservation of the great outdoors, and the ongoing promotion of all the shooting sports. FRGC is located in the heart of the beautiful Allegan State Game Area covering twenty acres. The facility includes three lighted trap ranges, two skeet fields, one lighted, and a covered rifle/pistol range with 25, 50, 100, 200, and 400 meter berms. The Fennville Gun Club has a full service, air conditioned clubhouse. We have plenty of seating, and a cozy wood stove stoked full in the winter months to keep the shooters warm as the day`s stories are shared.

We would like to thank all of our members and shooters for another successful year!
---
News & Upcoming Events
​
WELCOME TO 2021 AT FENNVILLE ROD AND GUN CLUB!
Another year is in front of us and we plan on having lots more fun at FRGC. We hope to see everyone there to enjoy the shooting sports we offer.
​~~~~~~~~~~~~~~~~~~~~~~~~~
​
​
​
The Klifman's
Sun, May 30, 9:55 AM (3 days ago)
to
June 2021 News Letter
Some club news: The Hamilton high school trap team wrapped up their season with a bang on
Saturday the 22nd, even though the club lost power at the beginning of the event due to some
quick thinking and a couple generators they were able to shoot till dark and grill out. A great time
was had by all and congratulations to the Hamilton Trap Team for completing their season and
to everyone that supported them through their season!
Grounds; Taking care of the grounds should become much easer, the club has made a
purchase of a 60 inch zero turn mower to replace our very outdated tractor. The tractor will go
up for sale on social media including a Woods mower deck, the tractor runs and mows. If
interested in this get ahold of Brian Klifman or stop at in at the club Tuesday 5 till 9 or Saturday
noon till 5.
Fish Fry Friday Night Fun Shoot; The May Friday night fun shoot and fish fry had to be
cancelled due to another power outage happening shortly after 5PM and did not come back on
till after midnight. This was the second outage in a week. Brian maned the kitchen on Saturday
and cooked the fish we had prepared for Friday so nothing went to waste and the Saturday
lunch was awesome. Next Friday night shoot will be June 26 at 5:30
Pancake Breakfast; The pancake breakfast is back! We will have a pancake breakfast the
second Sunday in June the 13th followed by our second Sunday Calcutta or a 80 bird shuffle
so come on out for some good food.
Egg shoot: The next egg shoot will be June 20 from 9:00am till 2:00pm, $10 for 15 Eggs,
Lunch Included. Scopes, Open Sites and Kids Divisions. Range as always is closed during
event. This has been a very popular event with rifle shooters so don't miss out!
CPL Class; When, Sun, June 27, 8am – 5pm, To register for any CPL class contact Skip
Coryell at 269-838-5586 or
skipcoryell@hotmail.com
Adopt A Highway: Thanks to John Jamros and all who participated in the adopt a highway pick
up, the next one will be July 23 @ 5:00pm. Everyone meets at the What Not Inn to get started.
RIFLE RANGE; Reminder the rifle range is open sun up to sun down except when scheduled
trap and skeet shooting is taking place or range maintenance is taking place. If you bring targets
to the range, please remove them when you are done. Please make sure you have your
membership card visible while on the rifle range, and please follow all range rules and above all
else be courteous to one another and be safe. I also ask that you do not put targets on the
posts holding up the rubber backers, I know it seems like you would know this but it happens.
We have a nice variety of new hats at the club make sure you check them out, you might see
one you just can't resist!
Please remember this club is run completely by volunteers, so everything that happens here is
due to someone giving up their time to make this club one of the best in Michigan, yes I said it !
Thanks to everyone that makes this place what it is and runs the way it does!!!!
Jon Knoll
President FRGC
Club Address, Map and Contact Information
---
Remember, Fennville Rod And Gun Club is a non-profit ALL VOLUNTEER organization.
Everything that happens at the club is due to the efforts of our generous members.
If you want to contribute some time, services, or goods please let us know!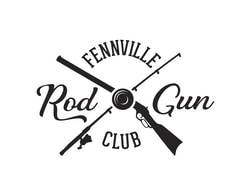 "...Just a little old gun club at the end of a dirt road"