Welcome to the Fennville Rod and Gun Club!

The Fennville Rod and Gun Club is a non-profit, all volunteer operated organization dedicated to the preservation of the great outdoors, and the ongoing promotion of all the shooting sports. FRGC is located in the heart of the beautiful Allegan State Game Area covering twenty acres. The facility includes three lighted trap ranges, two skeet fields, one lighted, and a covered rifle/pistol range with 25, 50, 100, 200, and 400 meter berms. The Fennville Gun Club has a full service, air conditioned clubhouse. We have plenty of seating, and a cozy wood stove stoked full in the winter months to keep the shooters warm as the day`s stories are shared.

We would like to thank all of our members and shooters for another successful year!
---
News & Upcoming Events
Club members please be aware that our gun clubs Second Sunday breakfast and Calcutta are cancelled due to Easter Sunday. Thanks for understanding and please have a Happy and safe Easter Sunday. Members if you know any club members that are not connected to the internet can you let them know about these changes. Thank you if you can do this.




These are the unofficial meeting minutes of our March club meeting.

Fennville Rod and Gun Club
Members Meeting
Thursday, March 9, 2023 @7:00PM

Pledge of Allegiance and Constitution Pledge

Board members absent: Bill Veldhoff, John Jamros, Cecil Lambers

Reports: The Treasurer's report and the Secretary's report were read and approved.

Article 1: We observed a moment of silence for club member Lavinna Dunlap who recently passed away.

Article 2: We had the privilege of witnessing the presentation of $970.00 from the family of
longtime member Phil Wightman, to Kyle Coffindoffer, a representative of the newly
formed Fennville High School Trap Team. The money will be used to help fund the new
team. Phil's daughters Wendy and Lonzi spoke of the family's wishes that a legacy of
the sport of shooting be preserved and passed on to Fennville youth in remembrance
of their dad. Kyle also spoke to the members regarding his vision for the new trap team.

Article 3: Dave McMurray spoke to the members on new Michigan gun law proposals, and urged the
membership to get involved in protecting gun rights.

Article 4: Spring clean up date for the club is scheduled for April 29, with May 6 as a backup

rain date. Cleanup will begin at 9:00AM, and run till noon.
Article 5: Sunday, March 12, the club will hold a 100 bird Calcutta.
Article 6: Pancake breakfasts start in April for the summer. They are held on the second Sunday
of the month. We are still looking for volunteers and/or teams to help work the
breakfasts. Please see one of the board members if you can help out.

Article 7: Thursday, March 16, Hamilton will begin using the trap fields for their High School Trap
Team, beginning at 7:00PM. During these times, the rifle and pistol range will be closed.

Article 8: Open trap and skeet shooting will begin on Tuesday evenings for the summer from 5:00-
9:00PM. The first Tuesday open shoot is scheduled for April 4.

Article 9: New members- The following 3 persons were voted into membership of the club;
Brian Glave, Hailey Marie Lyczynski, and Kevin Schneider

Club member John Hollander made the membership aware of the upcoming NRA
convention coming up April 14-16. John plans on going, and if anyone is interested
in going along, they can see John.

Meeting adjourned at 7:45
Next meeting Thursday, April 13 @7:00PM
Submitted by Tim Dykstra​






​


Club Address, Map and Contact Information
---
Remember, Fennville Rod And Gun Club is a non-profit ALL VOLUNTEER organization.
Everything that happens at the club is due to the efforts of our generous members.
If you want to contribute some time, services, or goods please let us know!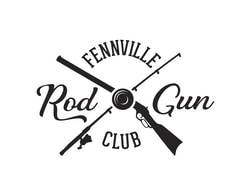 "...Just a little old gun club at the end of a dirt road"